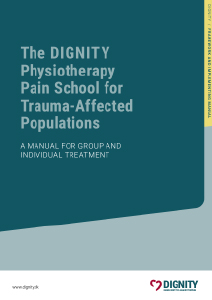 The DIGNITY Physiotherapy Pain School for Trauma-Affected Populations©
A Multilingual Pain Treatment Manual for Groups or Individuals.
DIGNITY is excited to share the DIGNITY Physiotherapy Pain School Manual (DIGNITY Pain School). The aim of the DIGNITY Pain School treatment for Trauma-Affected Populations is to work alongside people impacted by trauma and/or ongoing stress to strengthen their abilities to live meaningful and engaged lives despite pain and stress experiences.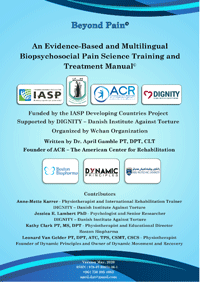 Beyond Pain
An Evidence-Based and Multilingual Biopsychosocial Pain Science Training and Treatment Manual. DIGNITY and ACR – The American Center for Rehabilitation are excited to share in a free and open source format. Beyond Pain is a pain science training and treatment manual available in English, Kurdish Sorani, and Arabic.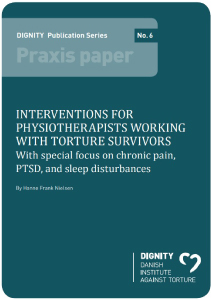 Praxis Paper – Interventions for physiotherapists working with torture survivors with special focus on chronic pain, PTSD, and sleep disturbances
Physiotherapy for torture survivors shares many features with other kinds of physiotherapy. The same clinical reasoning process and methodology is applied as for any other client. That said, torture survivors also show specific symptomatology.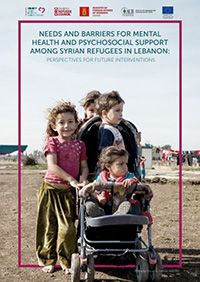 Needs and barriers for mental health and psychosocial support among Syrian refugees in Lebanon
The report is the result of a cooperation between DIGNITY, DRC Lebanon, and supported by the American University of Beirut (AUB) Center for Civic Engagement and Community Service. The research study received prior official approval by the National Mental Health Programme (NMHP), Ministry of Public Health Lebanon.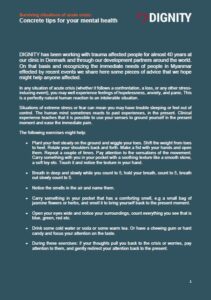 Mental health survival tips for people facing post-coup trauma in Myanmar
We recognizing the immediate needs of people in Myanmar effected by recent and ongoing events we have compiled some mental health survival tips and had them translated into English, Burmese, Sagaw Karen and Kachin languages.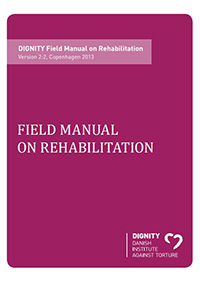 DIGNITY Field Manual On Rehabilitation
This manual is intended to meet the need for sound, evidence-based and/or consensus-based advice in attempts to rehabilitate survivors of torture or organised violence, in regions with limited physical and human resources and lacking specialized medical care.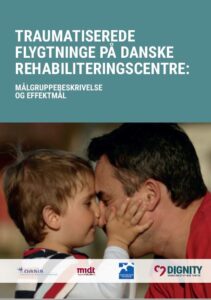 Traumatiserede flygtninge på danske rehabiliteringscentre
Målgruppebeskrivelse og effektmål.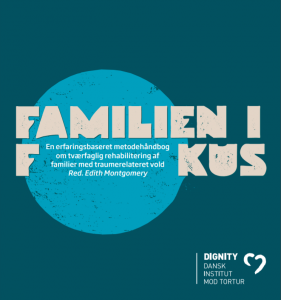 Familien i fokus
En erfaringsbaseret metodehåndbog om tværfaglig rehabilitering af familier med traumerelateret vold.
Bestil bogen, send mail til bogholderi@dignity.dk
Bogen koster 199kr + fragt 44kr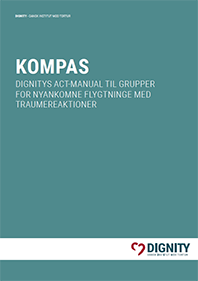 KOMPAS
DIGNITY's Act manual til grupper for nyankomne flygtninge med traumereaktioner.
Erfaringer fra rehabiliteringsklinikken i DIGNITY viser, at traumatiserede flygtninge ofte lever i Danmark i mange år med svære følger efter traumer uden at modtage relevant og effektiv behandling.
On Prevention and documentation of torture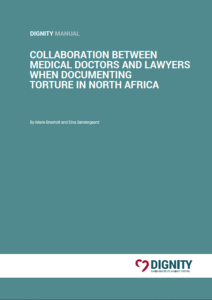 DIGNITY Manual (2021)
Collaboration between medical doctors and lawyers when documenting torture in North Africa.
Marie Brasholt & Elna Søndergaard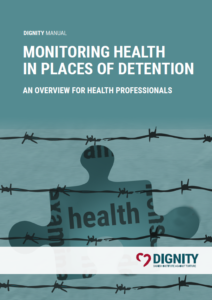 Monitoring health in places of detention (2021)
An overview for health professionals.
This DIGNITY manual provides an overview of prison health aspects that are relevant when monitoring health in places of detention. It is primarily aimed at health professionals conducting monitoring visits as part of an independent monitoring body.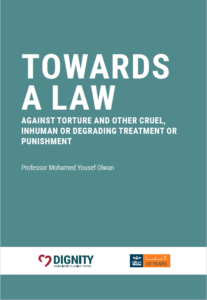 Towards a law (2020)
Mizan's study on a new anti-torture law in Jordan.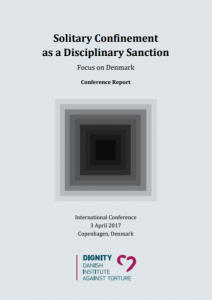 Solitary Confinement as a Disciplinary Sanction (2017)
Prohibition and Prevention of Torture and ill-treatment in International and Regional Human Rights Treaties.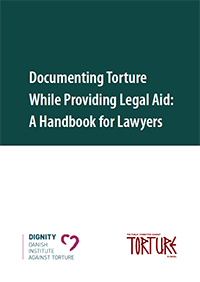 PCATI/DIGNITY (2016)
Documenting Torture While Providing Legal Aid: A Handbook for Lawyers
This handbook aims to assist lawyers worldwide, and to offer ideas and suggestions — based on PCATI's extensive field experience — of how to provide the best legal aid while attempting to promote accountability of perpetrators and justice for the victims.
DIGNITY Guidance Documents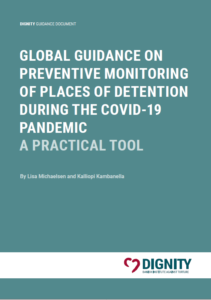 Global guidance on monitoring places of detention during the covid-19 pandemic. (2020)
A practical tool
Lisa Michaelsen & Kalliopi Kambanella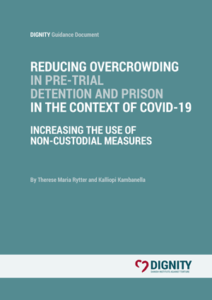 Reducing overcrowding in pre-trial detention and prison in the context of covid-19. (2020)
Increasing the use of non-cusodial measures.
Therese Maria Rytter & Kalliopi Kambanella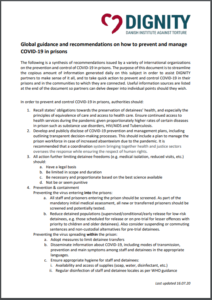 Synthesis of global guidance and recommendations on how to prevent and manage covid-19 in prisons. (2020)
DIGNITY
DIGNITY Training Collection
A collection of material about prohibition and prevention of torture and other cruel, inhumane and degrading treatment or punishment.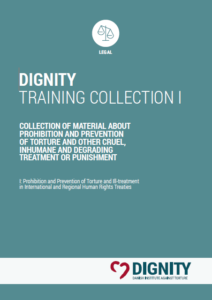 Training Collection 1
Prohibition and Prevention of Torture and Ill-treatment in International and Regional Human Rights Treaties.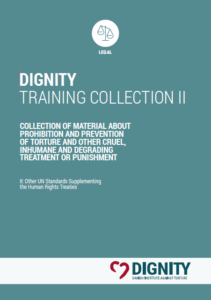 Training Collection 2
Other Relevant UN Standards Supplementing the Human Rights Treaties.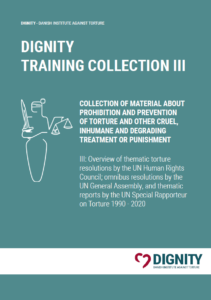 Training Collection 3
Overview of thematic torture resolutions by the UN Human Rights Council; omnibus resolutions by the UN General Assembly, and thematic reports by the UN Special Rapporteur on Torture 1990 – 2020.
On Prevention of violence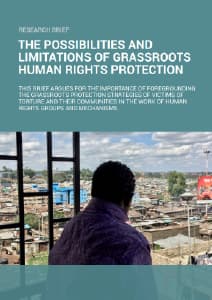 The possibilities and limitations of Grassroots Human Rights protection (2023)
Pre-Trial Detention (2021)
DIGNITY has supported the Ministry of Justice in Tunisia in developing guidelines to decrease the extensive use of pre-trial detention and increase the ability of judges to play a preventive role.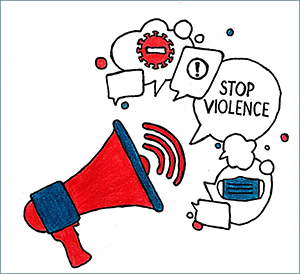 Preventive Covid-19 measures and violence prevention (2020)
Covid-19 communication campaigns developed by DIGNITY partners CIPREVICA in Central America and MidRift and HURA in East Africa, as part of the Intersectoral Urban Violence Prevention (IUVP) programme.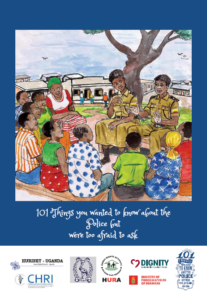 101 things you wanted to know about the police but were to afraid to ask (2019)
The primary purpose of is to improve relations and build trust between the police and the public, enabling joint peace building efforts in Uganda.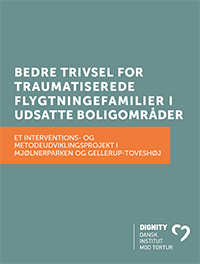 Bedre trivsel for traumatiserede flygtningefamilier i udsatte boligområder (2018)
Projekt FLYV, er et 3-årigt interventions- og metodeudviklingsprojekt i Mjølnerparken og Gellerup-Toveshøj.
Position Paper on Urban Violence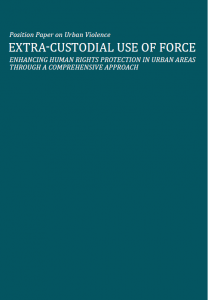 Extra-custodial use of force (2018)
Enhancing human rights protection in urban areas through a comprehensive approach.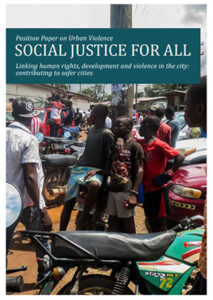 Social justice for all (2017)
Linking human rights, development and violence in the city: Contributing to safer cities.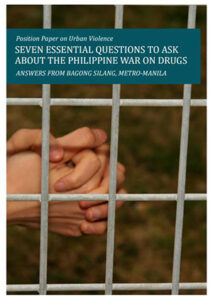 Seven essential questions to ask about the Philippine war on drugs (2017)
Answers from Bagong Silang, Metro-Manila.
DIGNITY's publication series
No. 43 Creating peaceful, fair and non-violent elections
(Nakuru and Baringo Countries, Kenya 2021-2022)
Mutuma Ruteere and Patrick Mutahi
No. 42 "Nine circles of hell": Places of detention in Ukraine under the Russian occupation
Vadym Chovgan, Mykhailo Romanov and Vasyl Melnychuk
No. 41 Root Causes of Gender-based Violence in Informal Settlements in Nakuru, Kenya
Elise Denis-Ramirez, Leslie C. Rono and Elizabeth Anyango
No. 40 Mental health and well-being of adult Syrian refugees and host population in Jordan
Jessica E. Lambert and Amalie M. Skovengaard
No. 39 DIGNITY's State Dialogue Programme to prevent torture.
Overview and analysis of implementation in Jordan and Tunisia (2008-2019)
Elna Søndergaard and Jo-Anne Prud'homme
No. 38 Torture in Egypt: Systemic and systematic
Giorgio Caracciolo, Ergun Cakal, The Committee for Justice and Egyptian Commission for Rights and Freedoms
No. 37 Trauma and mental health difficulties among adult refugees in Kyaka ll settlement in Uganda
Jessica E. Lambert and Elise Denis-Ramirez
No. 36 Legal note on the standards of effective investigation of torture and other ill-treatment
Vadym Chovgan, Elna Søndergaard and Akashdip Sahota
No. 35 Torture como marca cotidiana. Narrativas sobre os Serviços de atenção às vítimas de tortura desenvolvidos no Rio de Janeiro e em São Paulo
Maria Gorete Marques de Jesus, Giane Silvestre & Thais Lemos Duarte
No. 34 The role of the police and security services during election violence in Sierra Leone
Andrew M Jefferson, Ahmed S Jalloh, Berthan L Bangura and John L Coker
No. 33 Gender based violence in two intermal settlements in Nakura country, Kenya
Jessica E. Lambert, Ph.D. and Bridget Michael
No. 32 IIşkence görmüş ki̇şi̇lerle çalişan fi̇zyoterapi̇stler i̇çi̇n uygulama rehberi̇ kroni̇k ağri, travma sonrasi stres bozukluğu ve uyku bozukluklari üzeri̇ne (Turkish)
Hanne Frank Nielsen
No. 31 Interventions for physiotherapists working with torture survivors
With special focus on chronic pain, PTSD, and sleep disturbances (Arabic)
Hanne Frank Nielsen
No. 30 Place-based leadership development for intersectoral urban violence prevention – the cases of Nakuru and Naivasha, Kenya
Laura knight, Valentina Lugli, kath Cahalin and Dan Moloney
No. 29 Mental health treatment in traditional and faith-based healing centres in Ghana
Jessica E. Lambert, Jeanette Kørner, Nikolaj Mølgaard Thomsen and Fred Nantogmah
No. 28 Centering family relations in addressing violence in poor neighbourhoods
Perpetrators and protectors
Steffen Jensen, Meghan Belcher, Juancho Reyes, Dominique Dix-Peek, Cartor Temba and Nonhlanhla Sibanda
No. 27 Everyday violence and security in Tunisia
Rikke Hostrup Haugbølle
No. 26 Interventions pour les kinesithérapeutes travaillant avec des survivants de torture Avec une attention particulière sur la douleur chronique, le sspt et les troubles
Du sommeil
Hanne Frank Nielsen
No. 24 Survival and crisis in a diverse informal settlement: an action research project in Overcome Heights, South Africa
Nanna Schneiderman, Shari Thanjan, Derrick Naidoo, Steffen Jensen, Yolanda Anderson, Karen Mentoor, Shakena and Haziz Noredien and Gift Piri
No. 23 Suicide and self-harm in prisons
Maha Aon, Marie My Warborg Larsen and Marie Brasholt
No. 22 Étude sur la sécurité urbaine dans la Médina de Tunis
M. Adnen el Ghali, Dr. Yassine Turki and Ahlam Chemlali, chercheur collaborateur
No. 21 A study on urban security in the Medina of Tunis
M. Adnen el Ghali, Dr. Yassine Turki and Ahlam Chemlali, chercheur collaborateur
No. 19 Police practices in Liberia: a study of the legal frameworks and practices of fair trial, corruption and civilian oversight
Kari Øygard Larsen, Jo-Anne Prud'Homme, Steffen Jensen, Seidu Swaray and N. Russell Allen
No. 18 Legal study on policing and human rights standards internationally and in three countries of the global south (South Africa, Philippines and Liberia)
Jo-Anne Prud'Homme, Ernesto A. Anasarias, Themba Masuko, Malose Langa, Cara Casey Boyce, Kari Øygard Larsen, Steffen Jensen and N. Russell Allen
No. 17 Anti-torture advocacy in the Philippines: Building partnerships and alliances through transformative engagement
Joy Lascano, Kaloy Anasarias, Karl Hapal, Steffen Jensen and Andrew M. Jefferson
No. 16 Urban violence in Nakuru County, Kenya
Kamau Wairuri, Ahlam Chemlali and Mutuma Ruteree
No. 15 Psychosocial models for prevention and wellbeing: Addressing authority-based violence in urban neighbourhoods
Nomfundo Mogapi, Josephine Acuna Lascano, Ernesto A. Anasarias, Seidu Swaray, Themba Masuko and Steffen Jensen
No. 14 Social work models in addressing state and authority-based violence in Denmark and the Philippines
Carmel Ligon, Imelda Dura, Anna-Sofia Olesen Yurtaslan, Johanne Gregersen, Anna Bræmer Warburg, Maya Mynster Christensen and Steffen Jensen
No. 13 Organizing communities: Reflections on addressing authority-based violence in Monrovia, Manila and Johannesburg
Anna Warburg, Kaloy Anasarias, Nomfundo Mogapi, Seidu Swaray and Steffen Jensen
No. 12 Conditions for women in detention in Zambia: Needs, vulnerabilities and good practices
Jo Baker
No. 11 Conditions for women in detention in Philippines: Needs, vulnerabilities and good practices
Jo Baker
No. 10 Conditions for women in detention in Albania: Needs, vulnerabilities and good practices
Jo Baker
No. 9 Conditions for women in detention in Jordan: Needs, vulnerabilities and good practices
Jo Baker and Elna Søndergaard
No. 8 Consequences of torture and organized violence: Libya needs assessment survey
Fathi Ali, Ahlam Chemlali, Morten Koch Andersen, Mette Skar, Henrik Ronsbo and Jens Modvig
No. 7 Conditions for women in detention: Needs, vulnerabilities and good practices
Jo Baker and Therese Rytter
No. 6 Interventions for physiotherapists working with torture survivors, with special focus on chronic pain, PTSD, and sleep disturbances
Hanne Frank Nielsen
No. 5 Revisiting perpetration: The blurred boundaries of violence
Helene Risør, Kirsten Toft Bang and Steffen Jensen
No. 4 Children and juveniles in detention: Study on compliance with international standards in Sierra Leone
Prison Watch Sierra Leone with the support of The Rehabilitation and Research Centre for Torture Victims
No. 3 Opfølgnings undersøgelse af pilotprojekt i Karlebo kommune: Mod en fælles indsats netværksarbejde til forebyggelse af ungdoms kriminalitet i traumatiserede flygtninge familier
Tine Smidt Lützen and Edith Montgomery
No. 2 Violence in Bagong Silang a research report prepared in collaboration between DIGNITY and Balay
By Steffen Jensen, Karl Hapal and Jens Modvig
No. 1 Finding our way: Developing a community work model for addressing torture
Megan Bantjes (CSVR), Malose Langa (CSVR) and Steffen Jensen (DIGNITY)