The rehabilitation clinic
DIGNITY's rehabilitation clinic treats traumatized refugees and their families. On this page you can find detailed information about referral and treatment of patients.
Rehabilitation in Denmark
DIGNITY is approved by the Danish Health Authority as a highly specialized national center specializing in the rehabilitation of severely traumatized refugees. The treatment is free according to the Health Act. DIGNITY's treatment team is interdisciplinary and consists of doctors, physiotherapists, social workers and psychologists. The clinic collaborates with a permanent corps of interpreters who have insight and experience in the clinic's treatment. The team helps torture survivors, other (highly) traumatized refugees and their families process physical and psychological trauma and tackle social challenges.
DIGNITY is also a VISO supplier in the field of children, young people and education.
Contact the clinic
For more information about the our rehabilitation clinic please contact DIGNITY
Treatment at DIGNITY's clinic
Individual treatment
Group therapy
Family therapy
Individual treatment
Individual Treatment at DIGNITY
The individual treatment is based on the individual patient. The treatment is thus individually planned from an interdisciplinary perspective. After professional assessment, there will be the possibility of courses with a doctor, psychologist, physiotherapist and social worker. DIGNITY collaborates with the patient's own doctor, social authorities and the job center to support coordination of efforts and development around the individual.
Group therapy
Family therapy
Rehabilitation with interdisciplinary approach
The rehabilitation process in the clinic is based on an interdisciplinary and biopsychosocial approach, where a doctor, psychologist, social worker and physiotherapist work closely with the patient around common goals and a plan for the treatment. If necessary, assistance from a psychiatric medical consultant is involved.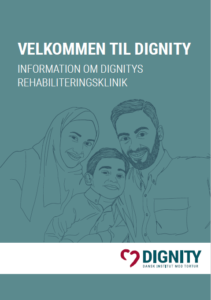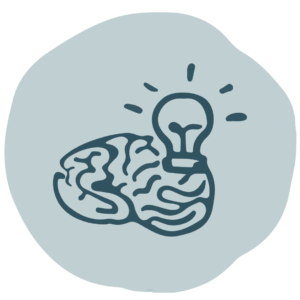 Documentation and research in the clinical work have been done since our rehabilitation clinic was established in 1982 at Denmark's main national hospital Rigshospitalet in Copenhagen. Clinical research takes place in close interaction between researchers and therapists. The aim is to develop a more evidence-based knowledge about the treatment of traumatised refugees and gain more knowledge about the target group.
Monitoring and evaluation of rehabilitation efforts
DIGNITY is continuously working to explore the effect of the various rehabilitation efforts both in Denmark and internationally. The aim is to document, further develop, and test the quality of the rehabilitation. Based on a thorough cost-benefit assessment, DIGNITY strives to identify the best and most effective treatment in any given context.
For this purpose, we work diligently to develop and implement credible and valid monitoring tools, preferably in collaboration with partners in Denmark and internationally.
In order to conduct research on the effects of our rehabilitation efforts, DIGNITY works on the basis of a 'multicentre' approach, where other Danish rehabilitation centres are invited to participate in the evaluation work in order to achieve results based on a larger patient population.
Internationally, we collaborate with partner organisations on the development and implementation of systems to monitor the course of and evaluate the effect of rehabilitation measures. We develop culturally relevant effect indicators and promote the use of indicators and monitoring.
Self help - You are not alone
The corona crisis has affected us all. This means that our lives have changed and have perhaps become more difficult than normal. That is why DIGNITY, with the support of TrygFonden, has created this site where you will find exercises and tools to help you unwind and activate your body.